There are a lot of software out there that can show us the disk utilization and also how much disk space each folder consume, but either some of them cost a high fee or cannot meeting my requirement.
Treesize Professional and SpaceMonger are two famous software for this kind of function, however I don't think it should cost so much. Treesize Prefessional cost US$52.95 for single user license, and SpaceMonger cost US$24.95 for single user license. That is too expensive!
Thanks to Google, I found this free software that can do the same job like Treesize and SpaceMonger.
SpaceSniffer is using
Treemap
concept that invented by
Prof. Ben Shneiderman
.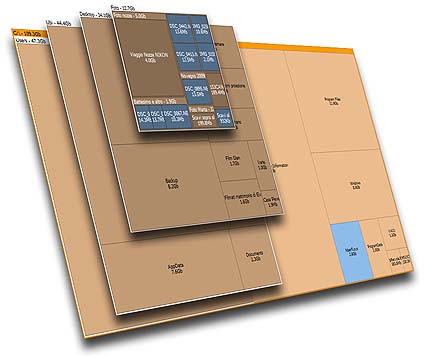 Not only Space Sniffer will show the file size graphically, you can also apply filter and check for certain file type only (example: *.mp3). You can also exclude file type as well.
The filter will also works for time, type the condition (Example: >5years), the view will be updated accordingly. Combine filters is allow.
Other advantages that the author mentioned in the website:
Fast and easy to use
Supports drag and drop
Export module lets you produce customizable textual reports
Intuitive structure layout, multiple views for different media
Zoomable elements, navigate like a web browser
The Windows folders and file popup menu is accessible by right mouse click
It's possible to restrict the view content by typing simple yet powerful filtering criteria
Lets you temporary tag files with four different colors and perform filtering on them
Different views of the same media can show differently filtered elements
Customizable in geometry, colors, behaviors
You can navigate even during the scan
Smart cached scanning engine, multiple views, single scan
You can refine a zoomed area by a secondary scan process, even with main scan active
Reacts to file system events, keeps always in synch, warns you by blinking elements
Can scan NTFS Alternate Data Streams
It doesn't clutter your registry, only a plain XML configuration file
It's portable, no installation required, just put the executable somewhere and let's go
Best of all, it is free!
You can donate to the author to help the development of this software.
Why not install this software on your girl friend or wife or spouse's PC or laptop on this valentine? Not only they will appreciate your effort (this add points!), this will reduce the number of times of they call you for help because out of diskspace on their PC/laptop.
To download, go to this link:
http://www.uderzo.it/main_products/space_sniffer/download.html
Like this if you are FB user and you think this post is useful. The button is at top right of content of this post.
+1 this post if you are Google+ users and you think this post is useful.
Hope you will enjoy this post, subscribe to my
RSS
or mailing list or follow me on blogger or
twitter
. :)
source: I wrote this software review!