Explorer++ which become my favorite Windows Explorer
. However, recently I have change my mind. Sorry Explorer++, not because you are not nice, but I have found other Windows Explorer that meet my needs. I like to open many windows, not only multiple of tabs in Chrome or FireFox, but Windows Explorer as well. There are a few Windows Explorer replacement that has multi tabs, but I don't think all of them can match Q-dir.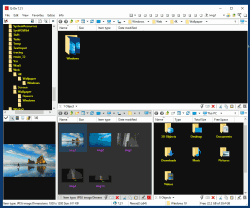 Q-dir not only allow up to 4 windows within the same windows, but I can open many more tabs in each windows. Best of all, I can save the state, so that after a Windows reboot, I can quickly recover my works, without need to look into the paths.
Usually after reboot, we have to open Windows Explorer, click on my documents and then search and search and search, which is very troublesome. With Q-dir, I just need to reload the previous state and it will open back all the windows and tabs and at the paths when I saved it.
Another advantage of the save state feature is I can upgrade Q-dir whenever I feel like to do it. Just save state and then upgrade, open the new version and load state again. I can quickly go back to business.
Why I like to open so many windows? Because I can quickly go back to my manga or music or movie or documents or anything, without need to navigate through the paths all over again. It will be there as long as I save the state.
Q-dir is freeware and now it also support Windows 8. Another thing I like about Q-dir is it available as portable from the official website.
There is one bug however. When I switch between "Restore down" or "Maximum", then windows does not refresh, sometime I don't see some of the files. But I can press Alt+F11 to restart it, it will remember the state before restart. So I don't need to worry too much of losing the paths/windows/tabs.
To download Q-dir, go to this link:
http://www.softwareok.com/?Download=Q-Dir
There is options on 32/64 bits and installer or portable. Personally I use 64bits portable version.
Like this if you are FB user and you think this post is useful. The button is at top right of content of this post.
+1 this post if you are Google+ users and you think this post is useful.
Hope you will enjoy this post, subscribe to my
RSS
or mailing list or follow me on blogger or
twitter
. :)
pix source:
http://www.softwareok.com